PRESS RELEASE
Dr. Arun Prasad of Concord, CA Named a Patients' Choice Award Winner for 2013
Concord, CA, May 16, 2014 /PRNewswire-USNewswire/ -- Among the select few physicians honored with the prestigious Patients' Choice Award this year is Dr. Arun Prasad.
In fact, of the nation's 870,000 active physicians and dentists, just five percent received top scores from their patients on sites like Vitals (http://www.vitals.com), qualifying them for this honor in 2013.
Millions of patients go online each year to rate their doctors on various components of care, including accuracy of their diagnosis, the amount of time they spent with the doctor, and the doctor's bedside manner and follow-up care. Patients' Choice reviews these rankings and other quality measures to compile its yearly list of award winners.
Dr. Arun Prasad commented on the recognition: "I'm so honored to receive an award that's based on how my patients view the quality of care I provide. I strive each day to exceed my patients' expectations, and I'm grateful that they've recognized my efforts."
For more information on this Patients' Choice Award winner, please visit Dr. Arun Prasad's profile on Vitals.com.
Following the publication of Arun Prasad's selection for the Patient's Choice Award, American Registry seconded the honor and added Dr. Prasad to The RegistryTM of Business Excellence. An exclusive recognition plaque has been designed to commemorate the honor.
For more information on Dr. Arun Prasad, located in Concord, CA, please call 925-687-6847. or visit www.muireyecare.com.
This press release was written by American Registry, LLC with approval by and/or contributions from Dr. Prasad and was distributed by PR Newswire, a subsidiary of UBM plc.
Patients' Choice provides in-depth information on doctors in your area who have been recognized and awarded for outstanding patient care and expertise. The Patients' Choice Award is the honor roll of physicians who have received the highest ratings by their patients.
American Registry, LLC, recognizes excellence in top businesses and professionals. The RegistryTM includes over 2 million significant business and profesional recognitions. For more information, search The Registry at http://www.americanregistry.com.
Dr. Arun Prasad Selected For "Patients' Choice Award 2013."
Source: American Registry and Patients' Choice on behalf of Dr. Arun Prasad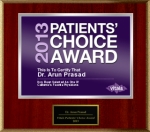 Muir Eye Care Receives 2013 Best of Concord Award
Concord Award Program Honors the Achievement
CONCORD December 13, 2013 -- Muir Eye Care has been selected for the 2013 Best of Concord Award in the Eye Care Center category by the Concord Award Program.
Each year, the Concord Award Program identifies companies that we believe have achieved exceptional marketing success in their local community and business category. These are local companies that enhance the positive image of small business through service to their customers and our community. These exceptional companies help make the Concord area a great place to live, work and play.
Various sources of information were gathered and analyzed to choose the winners in each category. The 2013 Concord Award Program focuses on quality, not quantity. Winners are determined based on the information gathered both internally by the Concord Award Program and data provided by third parties.
About Concord Award Program
The Concord Award Program is an annual awards program honoring the achievements and accomplishments of local businesses throughout the Concord area. Recognition is given to those companies that have shown the ability to use their best practices and implemented programs to generate competitive advantages and long-term value.
The Concord Award Program was established to recognize the best of local businesses in our community. Our organization works exclusively with local business owners, trade groups, professional associations and other business advertising and marketing groups. Our mission is to recognize the small business community's contributions to the U.S. economy.
SOURCE: Concord Award Program
CONTACT:
Concord Award Program
Email: PublicRelations@claimaward.com
URL: http://www.claimaward.com