DR. PRASAD
Arun Prasad was born and raised in Long Beach, CA. He attended Long Beach Polytechnic High School and was part of its PACE magnet program. As a senior in high school, he was accepted into the prestigious and highly selective Baccalaureate/MD program at the University of Southern California, where he went on to major in Social Sciences with an emphasis in Psychology and minor in Sociology with a Pre-Health emphasis, graduating magna cum laude with Phi Beta Kappa honors in 1997.
In addition, he spent some time studying abroad at the Australian National University in Canberra, Australia, during which time he studied Medical Sociology. He then received his medical degree at the University of Southern California in 2003. While at USC for medical school, he completed a one-year research fellowship in Cytology, under USC's Department of Pathology. He completed a transitional medical internship at Sinai-Grace Medical Center in Detroit, Michigan in 2004 and went on to complete his residency in ophthalmology at the Kresge Eye Institute, Detroit Medical Center/Wayne State University in 2007. He then did a clinical fellowship in glaucoma under Dr. George Spaeth, Dr. L. Jay Katz, and Dr. Marlene Moster at the preeminent Wills Eye Institute in Philadelphia, Pennsylvania. Dr. Prasad received his board certification in 2010.
Dr. Prasad moved to the Bay Area after completing his training. Although his roots are in Southern California, he loves Northern California and enjoys living here with his wife, daughter, and newborn son. Dr. Prasad worked at Kaiser Permanente before joining a private practice in Napa and Concord, where he practiced both general ophthalmology as well as glaucoma. He serves as an adjunct clinical professor of ophthalmology at the Touro University California College of Osteopathic Medicine in Vallejo.
Dr. Prasad has done a number of volunteer activities in the community. In his free time, he enjoys exploring Northern California and traveling around the world. His last big voyage was to Cambodia where he visited the temples of Angkor Wat, India where he visited the magnificent Taj Mahal, and the beautiful island country of Singapore. Besides traveling, he enjoys playing tennis, playing the piano, listening to classical music, and spending time with his family.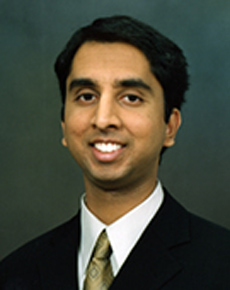 Arun Prasad M.D.
Board Certifications
American Board of Ophthalmology
Medical Board of California
Professional Affiliations
American Academy of Ophthalmology
American Glaucoma Society
The Association for Research in Vision and Ophthalmology
American Society of Cataract and Refractive Surgery
Napa & Solano County Medical Societies
American Medical Association
International Society of Spaeth Fellows
Hospital Privileges
Queen of the Valley Hospital
John Muir Medical Center (Walnut Creek/Concord)